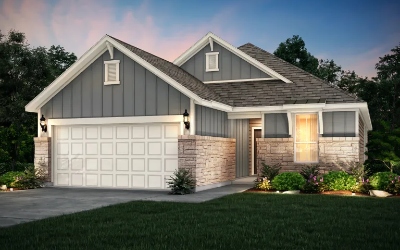 Find Your New Home in San Antonio
Discover new homes from Centex, one of the nation's top home builders, and live in a warm climate in a big city with a small-town vibe. Our new affordable homes in San Antonio provide easy access to three local military bases, as well as employers in a diversified and expanding economy. Enjoy our open floor plans and Smart Home technology to meet your lifestyle needs. Close to Texas Hill Country, our new construction homes also offer a getaway from city life at nearby outdoor recreation areas and local wineries.
Modern Affordable New Homes by San Antonio Home Builders
Your exploration of new construction homes should lead you to a space that feels like home long before you've moved into it. With our curated-for-you home design, you can find a new home under $200k that feels exactly right for you. From selecting the perfect floor plan to deciding on a color package that helps complete the space, we build our new homes around you and your lifestyle.
Flexibility is important when you're making a long-term decision. Our flexible rooms give you the freedom you need to create a craft space or guest room today, and a play area or organization area tomorrow. With Centex, you'll find home design that was designed to grow with you and an entertainment space that caters to everyone you love. Our spacious great rooms make it easy to enjoy the activity going on in every space, while our kitchen islands serve as a welcoming central spot in your new kitchen. Whether you're sitting down for a quick breakfast in the morning, baking with family, or enjoying a buffet-style spread of food with loved ones—you'll find the space you need to bring everything together.
Added features like built-in energy efficiency and smart home technology put the final touches on your space. Every home comes pre-wired for your electronic devices and set up for superior Wi-Fi coverage. If you want more, you can add on features like keyless entry and phone-operated garage access or temperature control. Find your home with Centex today, and discover a space that will grow with you.
Quality New Construction under $200K
Our new home builders put premium materials and quality craftsmanship into every square foot of your new home. Because we understand that your home is your safe haven and you deserve a space where you can rest, worry-free. That's why all of our new homes under $200k come with a 10-year limited structural warranty—so you can come home at night, slip under the covers of your private owner's suite, and feel confident knowing that you have the right structure in place to build out the rest of your life in San Antonio.
Affording your future is the first step. When you find a high quality home through Centex, we'll help you get through the more tedious parts and celebrate the more joyous ones. From buying your new home to financing your first home—we have resources available that will help you make smart decisions. If you need help understanding your options or deciding how much home you can afford, we can also connect you to our partners at Pulte Mortgage.
Our goal is to make sure that you enjoy every step of buying your new home. From working with our informed sales specialists to pick out the perfect house or learn more about a neighborhood, to doing walkthroughs with your dedicated field manager—we hope that when you buy a new home under $200k with Centex, you're also receiving the peace of mind that your future is structured to last.
New Homes near Top San Antonio Attractions
Find more than a new affordable home when you work with Centex, find yourself tucked into a neighborhood that's near some of the best attractions in San Antonio. Enjoy a night out at the city's famous Riverwalk, where you'll find countless options for shopping and dining—or take a step back in history at The Alamo. On weekends, enjoy visits to the Pearl District farmer's market or catch a basketball game at the home of the San Antonio Spurs.
No matter how you like to spend your leisure time, you can find a new home for sale from Centex that's nestled into the attractions in San Antonio and built to match your lifestyle.
Affordable, Custom Builder, Modern Style